Build a Massive Vocabulary with Only 1 Word
How do you build vocabulary with just one word? Easy. First start with one word.
I'll choose cup:
This can be anything, but preferably an item you see or interact with on a daily basis. Now, use the word in a sentence.
It doesn't have to be too fancy. Just something that makes sense with the word. Next, look it up in the foreign language.
I'm learning Spanish, so of course, I have looked my sentence up in Spanish. You don't have to be learning Spanish to do this. Just follow the same steps for your foreign language.
Now, practice using the sentence with other items that can apply in the same way. So for example, in this sentence, instead of saying "The cup is on the table" you can use other items that might be placed on a table, such as: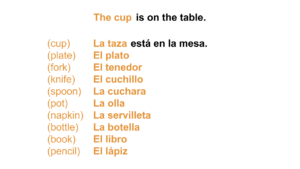 I recommend to use the sentence with at least 10-20 items. This will help you get used the feel and flow of the phrase as you practice.  
And that's it. It's that simple. Let's do it again.
Start with a word:
 Use it in a sentence:
 Look it up in the foreign language:
Practice using it with other items that apply:
Pretty simple, right? We now have 10 variations of sentences we built from only one word.
So, now if we take both sentences above, with 10 variations each, we have a total of 20 new phrases, right?
Wrong.
We actually have a total of 40 new phrases.
And this is the most amazing part about this process. When you introduce a new phrase to what you already have, it has the potential to not only to add vocabulary, but to exponentially multiply it – with NO EXTRA EFFORT!
How? By mixing and matching the phrases together.
Mix & Match
We can use the words we already have – just rearrange them a bit. Let's try this with the two sentences we have.
The items from the first sentence can be replaced with the items from the second sentence. Instead of the cup is on the table, we can say the chicken is on the table.
Likewise the items from the second sentence can be replaced with the items we used in the first one. Instead of I like chicken, we can say I like the cup. 
After mixing and matching we now have another 20 variations of sentences we got with almost no extra effort, since we already did the work with the original 20. Altogether that's 40 variations of sentences we created with minimal effort – starting with only one word.
So as you can imagine, from here you would only need to add a few more sentences in order to make your vocabulary skyrocket!
And you're not just building vocabulary as in just lists of words. You are getting used to the flow of the language, how it sounds and how it feels, because you are using it in the context of sentences that people normally would say.
You are also learning phrases that are relevant to you and your life because they are taken directly from your own surroundings. This gives you continual opportunity to use the foreign language on a daily basis. Again – all from staring with only one word.
And that is what I call smart language learning.
Links
If you like this post, check out the FREE video course I made called The Foreign Language Smart Start. It was created to help you start learning your first words and phrases in a foreign language.
If you want to see the strategies from the video course put into action, check out the 28 Day Spanish Challenge.  I personally used the strategies that I teach in the course to learn my first words and phrases in Spanish.